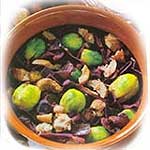 Ingredients
Edit
Directions
Edit
Put the oil in a microwave-safe dish.
Microwave at 100% power for 2 minutes.
Drop in the seeds.
Continue to microwave at the same level for one minute.
Add the spices and ginger-garlic paste.
Stir and cook for another 3 minutes (or 2 minutes at microwave 70% + convection 200 °C).
Pour in the tomato purée.
Cover with a paper napkin.
Cook at 100% power for 8 minutes, stirring twice, till the oil starts to separate at the edges.
Fold in the fried brinjals and a few tablespoons of water to make a thick, clinging gravy.
Cover and microwave at and 50% power for 3 minutes.
Let it stand for 3-4 minutes before serving.
Ad blocker interference detected!
Wikia is a free-to-use site that makes money from advertising. We have a modified experience for viewers using ad blockers

Wikia is not accessible if you've made further modifications. Remove the custom ad blocker rule(s) and the page will load as expected.