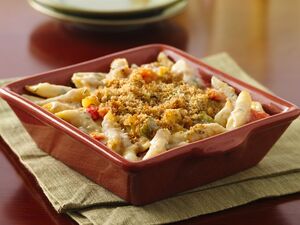 Ingredients
Edit
1 lb. elbow macaroni
24 oz. cheddar cheese
3 - 4 cans of evaporated milk (e.g. Carnation)
Half onion, minced
Quarter green bell pepper, minced
1 - 2 bird peppers, chopped and mashed to taste (or 1 - 2 tsp. red pepper flakes)
2 tbsp. butter
2 eggs beaten
salt
black pepper
Directions
Edit
Boil pasta in salted water until al dente
Preheat oven to 350 degrees.
Drain pasta, return to pot. Immediately add butter, onion, green pepper, and hot pepper by folding them in. Allow the veggies to sweat a bit.
Add cheese folding until melted, saving at least 4 oz. for later.
Add evaporated milk, stirring after the first can and every half can thereafter until macaroni is totally submerged by at least half an inch.
Taste then add salt and black pepper to liking. Optional: extra hot pepper.
Add eggs.
In a 13x9 inch butter greased pan, pour mixture out evenly (you may want to have a small casserole dish handy in case there is extra.). Sprinkle with remaining cheese.
Bake for 45 minutes or until slightly firm in the centre, and golden brown on top.
Let cool for at least 10 minutes before cutting and serving.
Enjoy! Tastes great hot, warm, room temperature even cold. NB* Tip for steps 3 and 4 you need to work fast, if cheese is not melting you may need to turn stove to lowest setting and keep stirring gently until completely melted. You can halve the recipe for a smaller amount of people.
Ad blocker interference detected!
Wikia is a free-to-use site that makes money from advertising. We have a modified experience for viewers using ad blockers

Wikia is not accessible if you've made further modifications. Remove the custom ad blocker rule(s) and the page will load as expected.