Description
Edit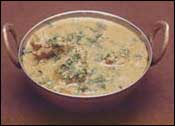 Ingredients
Edit
Directions
Edit
Make a paste of the ginger, garlic, cloves, cinnamon, cardamom, cashews and almonds. Heat oil in a big vessel, and add the chopped onions. Fry them till they turn golden brown. Then put the ground masala and fry well. While frying this paste, add 3-4 tablespoons of water. ( you will notice that oil floats on top.) Now add the yoghurt and Chicken. Season it well with salt, haldi and chilli powder. Cook for 10 minutes, then add the coconut milk. Cook till done, and garnish with coriander leaves.
Other Links
Edit
See also
Edit
Ad blocker interference detected!
Wikia is a free-to-use site that makes money from advertising. We have a modified experience for viewers using ad blockers

Wikia is not accessible if you've made further modifications. Remove the custom ad blocker rule(s) and the page will load as expected.