Description
Edit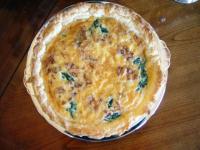 I like to have this sometimes on Sunday for brunch when I want something a little eggy/cheesy. Usually I serve it with a light crisp green salad with some sort of vinaigrette. Other times, usually in summer, I will cut up some fresh fruit, like cantaloupe and pieces of watermelon and strawberries and serve with. It makes a nice light meal. This particular recipe is from Barbara Jones.
Ingredients
Edit
Directions
Edit
Rub softened butter on the inside surface of pie shell.
Drain spinach; squeeze out as much liquid as you can.
Pour mixture into pie shell.
Bake quiche at 425°F for 10 minutes, then reduce heat to 325°F and bake for an additional 35 – 40 minutes or until quiche is set.
Ad blocker interference detected!
Wikia is a free-to-use site that makes money from advertising. We have a modified experience for viewers using ad blockers

Wikia is not accessible if you've made further modifications. Remove the custom ad blocker rule(s) and the page will load as expected.