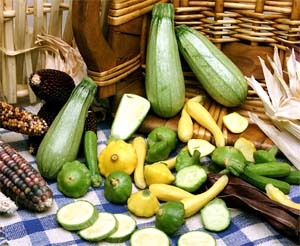 A family of small oblong squash that may have a green or yellow skin and contain a firm inner flesh that provides a delicately mild flavor when served raw or cooked. As an appetizer with other raw vegetables and dip, the squash are cut as ovals or as strips to make them convenient for dipping. The squash can also be baked or sautéed with butter and fresh herbs. The various members referred to as baby summer squash include: Crookneck, Scaloppini, Summer, Sunburst, and Zucchini.
Ad blocker interference detected!
Wikia is a free-to-use site that makes money from advertising. We have a modified experience for viewers using ad blockers

Wikia is not accessible if you've made further modifications. Remove the custom ad blocker rule(s) and the page will load as expected.