Ingredients
Edit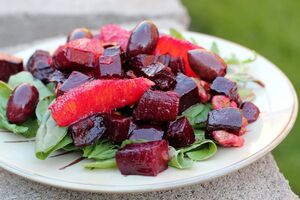 Directions
Edit
Scrub beets and steam until tender-firm and a knife enters easily, 10 to 15 minutes if very small and 25 minutes or longer if large.
Set aside to cool, and slip off skins.
Quarter, halve or leave whole.
Discard stems and keep greens, discarding any that are bruised or badly torn.
Arrange greens on serving dish.
Toss beets with remaining oil, lime juice and fresh herbs.
Pile onto greens and serve.
Ad blocker interference detected!
Wikia is a free-to-use site that makes money from advertising. We have a modified experience for viewers using ad blockers

Wikia is not accessible if you've made further modifications. Remove the custom ad blocker rule(s) and the page will load as expected.