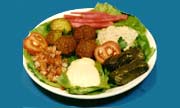 Name variations
Edit
Baba ghanoushh
Baba ganouj
Baba ghanouj
About baba ghanoush
Edit
Middle Eastern purée of eggplant, tahini, olive oil, lemon juice and garlic. It is garnished with pomegranate seeds, chopped mint or minced pistachios. Used as a spread or dip for a pita.
Ad blocker interference detected!
Wikia is a free-to-use site that makes money from advertising. We have a modified experience for viewers using ad blockers

Wikia is not accessible if you've made further modifications. Remove the custom ad blocker rule(s) and the page will load as expected.