Ad blocker interference detected!
Wikia is a free-to-use site that makes money from advertising. We have a modified experience for viewers using ad blockers

Wikia is not accessible if you've made further modifications. Remove the custom ad blocker rule(s) and the page will load as expected.
Description
Edit
Nothing quite like a succulent Porkchop on the BBQ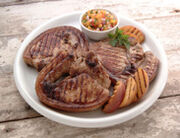 Ingredients
Edit
option 1 - equal parts lemon juice and Lee Kum Kee sesame oil, seasoning
option 2 - equal parts Lee Kum Kee soy sauce and ginger ale
option 3 - simply coat chops with Lee Kum Kee Char Siu sauce
Fresh Herbs
BBQ Sauce - Lee Kum Kee Hoisin Sauce
Directions
Edit
Put chops into a heavy plastic bag; add marinade and leave in refrigerator for two hours or overnight.
Drain from the marinade and place Pork on the pre-heated (medium heat) barbecue and cook until the juices run clear when meat is pierced (71 °C).
Other Links
Edit
See also
Edit