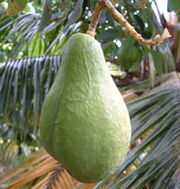 Smooth round, glossy green fruits whose flesh is deep green near the skin, becoming yellowish nearer the single large, inedible ovoid seed. The flesh is hard when harvested but softens to a buttery texture.
Ad blocker interference detected!
Wikia is a free-to-use site that makes money from advertising. We have a modified experience for viewers using ad blockers

Wikia is not accessible if you've made further modifications. Remove the custom ad blocker rule(s) and the page will load as expected.