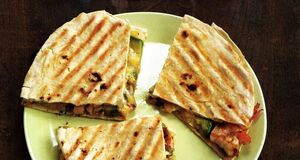 Description
Edit
A delicious and easy quesadilla - an affordable combination of real fruit and cheese within the tortilla is great for side dishes, appetizers, or a new accompaniment to the dinner or lunch. White salsa and chili powder work for this too.
Ingredients
Edit
1 avocado
4 flour tortillas
8 tbsp. salsa
1 cup sharp cheese (Cheddar, Colby, American, or Monterey Jack only), grated
Directions
Edit
Slice the avocado.
On an open tortilla, spread ¼ cup grated cheese, sliced avocado, and 2 tablespoons of salsa.
Broil under a broiler for three minutes. Serve hot and plain.
Ad blocker interference detected!
Wikia is a free-to-use site that makes money from advertising. We have a modified experience for viewers using ad blockers

Wikia is not accessible if you've made further modifications. Remove the custom ad blocker rule(s) and the page will load as expected.