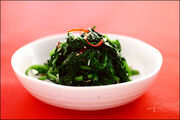 Ingredients
Edit
spinach seasonings
Edit
daikon/carrot seasonings
Edit
bean sprout seasonings
Edit
fiddlehead seasonings
Edit
Directions
Edit
Blanch in cold water.
Drain, and squeeze out excess water.
Cut spinach into 1½ inch lengths.
Add spinach seasonings and mix well.
Let stand 10 minutes, then lightly squeeze out water.
Discard roots of soybean sprouts.
Cover and cook over medium heat for 10 minutes.
Drain well and cool.
Mix in beansprout seasonings.
Drain fiddlehead.
Stir fry in 1 tablespoon sesame oil.
Add beansprout seasonings to taste.
Cook down and sprinkle with ground sesame seeds.
Arrange cool vegetables in separate sections on serving dish, or present in individual bowls.
Ad blocker interference detected!
Wikia is a free-to-use site that makes money from advertising. We have a modified experience for viewers using ad blockers

Wikia is not accessible if you've made further modifications. Remove the custom ad blocker rule(s) and the page will load as expected.