Description
Edit
Serves: 4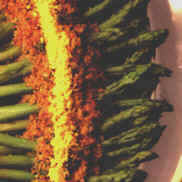 Ingredients
Edit
Directions
Edit
Trim the asparagus spears to the same length, leaving about 7.
5 cm (3 inches) before the green part begins.
Lay them on a piece of folded foil wide enough to support the spears during cooking and long enough to extend at each end to form 'lifters'.
Pierce the centre of the foil strip.
Place the asparagus on the foil in a wide shallow pan and pour over lightly salted water just to cover.
Bring to the boil then cook gently for about 25 minutes, depending on the thickness of the spears, or until tender but not broken.
Meanwhile, melt the butter in a frying pan, add the breadcrumbs and toss over a moderate heat until golden brown.
season to taste and keep hot.
Ad blocker interference detected!
Wikia is a free-to-use site that makes money from advertising. We have a modified experience for viewers using ad blockers

Wikia is not accessible if you've made further modifications. Remove the custom ad blocker rule(s) and the page will load as expected.