Description
Edit
A red-hot combination of real beef, herbs, and spices is made bolder in taste and cooked to smooth perfection, as it adds some burning zest to the meat when served with other dishes. You can make the beef tender even when cooked and spicy.
Ingredients
Edit
½ kg. beef sukiyaki or (1 ¾ lb. beef brisket, whole then cut into strips)
1 - 3 tsp. Worcestershire sauce
½ - 1 cup coconut milk
2 tbsp. lemon juice
2 tsp. chili garlic sauce
2 tsp. chili powder, optional
1 tsp. iodized fine salt
¼ cup cooking oil
1 tsp. chopped garlic
½ cup basil leaves
½ cup cilantro
Directions
Edit
Marinate beef in Worcestershire sauce, coconut milk, lemon juice, chili-garlic sauce, chili powder (optional), and salt. Set aside for 15 minutes, then drain beef from marinade. Reserve the marinade.
Heat oil in a wok over high heat. Sauté garlic, then add beef. Stir-fry until brown.
Add the marinade, basil, and cilantro. Cook for another 3 minutes. Serve hot and plain with rice.
You can normally substitute the beef sukiyaki for the sliced beef brisket, beef strips, or beef cubes to mix with the Worcestershire sauce, coconut milk, lemon juice, chili powder, and salt.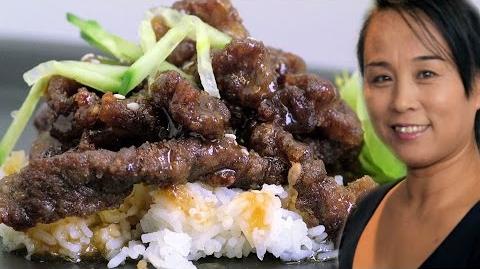 Ad blocker interference detected!
Wikia is a free-to-use site that makes money from advertising. We have a modified experience for viewers using ad blockers

Wikia is not accessible if you've made further modifications. Remove the custom ad blocker rule(s) and the page will load as expected.