Description
Edit
I made this in a cooking class at Leith's in London. It's a very simple rice that always turns out like the rice served in Thai restaurants in London.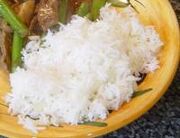 Ingredients
Edit
Directions
Edit
Put all the ingredients into a large saucepan and let stand for five minutes.
Cover the pan and bring to a boil, then reduce the heat and cook over a low heat for 10 minutes until the water is absorbed.
Remove the pan from the heat and allow to stand covered for five further minutes.
Remove the flavourings, if wished, and pile into a serving dish.
Serve immediately, while very hot.
Ad blocker interference detected!
Wikia is a free-to-use site that makes money from advertising. We have a modified experience for viewers using ad blockers

Wikia is not accessible if you've made further modifications. Remove the custom ad blocker rule(s) and the page will load as expected.