Description
Edit
Try eating this delicious salad with Irish soda bread.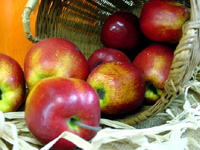 Ingredients
Edit
For the dressing:
Directions
Edit
Put small amount of olive oil in pan and heat. Cook Apple and Bacon. In another saucepan, put soured cream, Cider, Cheese and vinegar and heat until smooth and creamy. Dress lettuce with olive oil, lemon juice and seasoning. Place lettuce on a large platter. Put Apples and Bacon on top. Drizzle the dressing. Serves 4.
Other Links
Edit
See also
Edit
Ad blocker interference detected!
Wikia is a free-to-use site that makes money from advertising. We have a modified experience for viewers using ad blockers

Wikia is not accessible if you've made further modifications. Remove the custom ad blocker rule(s) and the page will load as expected.