Description
If you like apple pie, you're sure to enjoy this baked apple treat. Serve warm and top with low-fat vanilla frozen yogurt for that traditional apple pie flavor.
Source: Fruits and Veggies Matter by the Centers for Disease Control and Prevention, public domain government resource—original source of recipe
Cook Time: 40 minutes
Serves: 6
Ingredients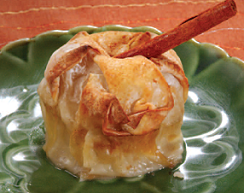 Directions
Preheat oven to 375 °F.
Spray six muffin cups with non-stick cooking spray.
In a large bowl, combine sugar, cinnamon, cornstarch, vanilla, and 1 tbsp water.
Roll peeled apples in the mixture until coated.
Place one apple in the center of each egg roll wrapper.
Bring the corners up to the top of the apple, pressing and folding to seal the edges.
Place each dumpling in a muffin cup and lightly spray the tops with non-stick cooking spray.
Bake until golden, about 20 minutes.
Cool on a rack for 15 minutes.
Tips
Look for egg roll wrappers in the refrigerator section of the grocery store.
See also
Ad blocker interference detected!
Wikia is a free-to-use site that makes money from advertising. We have a modified experience for viewers using ad blockers

Wikia is not accessible if you've made further modifications. Remove the custom ad blocker rule(s) and the page will load as expected.