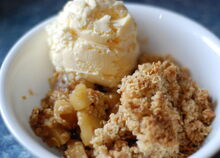 Ingredients Edit
Directions
Edit
Crumble:
Combine Crumbly flour and Light Brown Sugar in a large bowl and mix well.
Cut in the butter a little at a time, until the mixture resembles coarse meal.
Filling:
Place the Apples in a large bowl, sprinkle with brown sugar/flour/ciannamon mixture and stir gently to mix.
Baking Directions:
Grease a shallow 9" pie plate
Spoon the fruit mixture into the bottom and sprinkle the crumble mixture on top.
Bake at 350 for 50 minutes, until the topping is browned and the fruit mixture bubbling.
Serve with whipped cream or ice cream.
Ad blocker interference detected!
Wikia is a free-to-use site that makes money from advertising. We have a modified experience for viewers using ad blockers

Wikia is not accessible if you've made further modifications. Remove the custom ad blocker rule(s) and the page will load as expected.