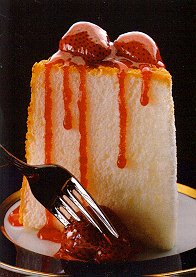 Prep Time:
Cook time:
Serves:
Description
Edit
Light, airy sponge-type cake made with stiffly beaten egg whites but no yolks or other fats. Normally baked in a tube pan (ring tin).
Ingredients
Edit
Directions
Edit
Heat the oven to 180 °C (350 °F, gas mark 4). Whisk the egg whites in a large bowl until foamy. Sprinkle the cream of tartar and the vanilla and almond extracts over them and continue whisking until the mixture is stiff but not dry.
Add ½ of the sugar, 1 tablespoon at a time, whisking continuously: the mixture should be shiny and form soft peaks that bend over at the peaks; do not beat until stiff.
Sift together 3 times the flour, remaining sugar and salt.
Sift a fine layer(⅛ of total) of the flour mix over the egg mix.
Fold in gently with a metal spoon until almost incorporated.
Repeat, blending in the last addition until it is all incorporated.
Pour the mixture into an ungreased 9 inch (23 cm) ring-shaped cake tin.
Bake on the lowest shelf of the oven for +/- 45 minutes, until an inserted toothpick comes out clean and the top is golden brown and feels dry.
To cool the cake, leave it in the tin and turn it upside-down, leave it to cool for at least 1 hour 30 minutes.
To take the cake out of the tin, run a knife around its outside and turn it upside-down onto a plate (if you do not have a ring-tin one, use a round cake tin and put an empty can upside-down in the centre to make the hole. When cooling the cake support the cake tin and the empty can, on a jar so that the cake is not resting on anything and can 'stretch' downwards).
Ad blocker interference detected!
Wikia is a free-to-use site that makes money from advertising. We have a modified experience for viewers using ad blockers

Wikia is not accessible if you've made further modifications. Remove the custom ad blocker rule(s) and the page will load as expected.