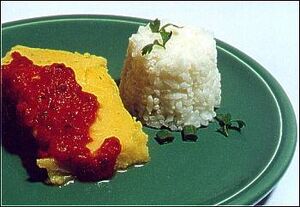 Ingredients
Edit
Directions
Edit
Set aside.
Bring 4 cups of water to full boil in a saucepan, add oil and beef bouillon.
Stir with a wood spoon.
If you stop stirring the angú create hot bubble splashes that can burn you.
Cook less time if you'd like a past consistency angú and serve hot.
If you'd like a shaped angú, cook the whole 50 minutes and pour in a bundt or fluted tube pan.
Wait angú to cool before releasing in a serving plate.
Ad blocker interference detected!
Wikia is a free-to-use site that makes money from advertising. We have a modified experience for viewers using ad blockers

Wikia is not accessible if you've made further modifications. Remove the custom ad blocker rule(s) and the page will load as expected.