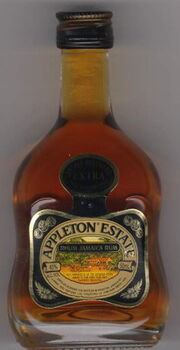 Name Variations
Edit
gold rum
añejo rum
brown rum
About Amber rum
Edit
Wikipedia Article About Amber rum on Wikipedia
Gold Rums, also called amber rums, are medium-bodied rums which are generally aged. The rum can obtain its flavor through addition of spices and caramel/color (a variation often sold as Spiced Rum), but historically gains its darker color from aging in wooden casks (typically oak).
Ad blocker interference detected!
Wikia is a free-to-use site that makes money from advertising. We have a modified experience for viewers using ad blockers

Wikia is not accessible if you've made further modifications. Remove the custom ad blocker rule(s) and the page will load as expected.