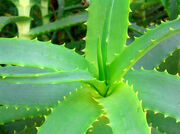 Medicinal plant known locally as "sinkle bible" - originally from West Africa.
Aloe vera, also known as the medicinal aloe, is a species of succulent plant that probably originated in Northern Africa. Aloe vera grows in arid climates and is widely distributed in Africa and other arid areas. The species is frequently cited as being used in herbal medicine. There have been many scientific studies of the use aloe vera, some of it conflicting. Despite these limitations, there is some preliminary evidence that Aloe vera extracts may be useful in the treatment of diabetes and elevated blood lipids in humans. These positive effects are thought to be due to the presence of compounds such as polysaccharides, mannans, anthraquinones and lectins. Also cures falling hair and wounds.
Ad blocker interference detected!
Wikia is a free-to-use site that makes money from advertising. We have a modified experience for viewers using ad blockers

Wikia is not accessible if you've made further modifications. Remove the custom ad blocker rule(s) and the page will load as expected.