Ad blocker interference detected!
Wikia is a free-to-use site that makes money from advertising. We have a modified experience for viewers using ad blockers

Wikia is not accessible if you've made further modifications. Remove the custom ad blocker rule(s) and the page will load as expected.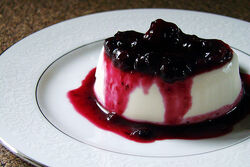 Description
Edit
Contributed by Healthy Recipes for diabetic Friends Y-Group
Source: Diabetic Living Diet Online
Prep Time: 20 Minutes | Rest Time: 8 hours | Total Time: 20 Minutes
Servings: 2
Ingredients
Edit
Directions
Edit
Panna Cotta
Edit
Let stand for 3 minutes to soften.
Cook and stir over medium heat until gelatin is dissolved.
Stir in almond extract.
Pour into two 6-ounce custard cups or disposable plastic cups.
Cover and chill for at least 8 hours or until firm.
In another small saucepan combine blueberries, the 1 tablespoon sugar, the orange juice, and cornstarch.
Cook and stir over medium heat until slightly thickened and bubbly.
Cook and stir for 2 minutes more.
Stir in vanilla.
Transfer to a bowl.
Cover and chill until ready to serve.
To serve
Edit
Spoon the sauce into dessert dishes.
Run a small knife around the edge of each panna cotta; unmold onto sauce.
Nutritional information
Edit
Per serving:
183 Calories | 3g Total Fat | 2g Saturated Fat | 65mg Sodium | 33g Carbs | 2g Dietary Fiber | 0g Sugars | 9mg Cholesterol | 5g Protein
Exchanges: ½ dairy | 1 fruit | 1 other carb | ½ fat
Carb choices: 2