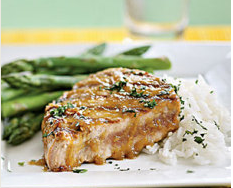 Prep Time: 10 minutes
Cook time: 5 minutes
Serves: 4
Description
Edit
Absolute delicious Japanese like dinner made right at home in a matter of minutes!
Ingredients
Edit
2 tablespoons low-sodium soy sauce, divided
4 (6-ounce) tuna steaks (1 inch thick)
2 tablespoons ginger marmalade (such as Dundee)
2 teaspoons wasabi paste
Cooking spray
2 tablespoons chopped fresh cilantro (optional)
Directions
Edit
Spoon 1 tablespoon soy sauce over fish; let stand 5 minutes.
Combine the remaining 1 tablespoon soy sauce, ginger marmalade, and 2 teaspoons wasabi paste in a small bowl, stirring with a whisk.
Heat a grill pan over medium-high heat and coat pan with cooking spray.
Add fish to pan; cook 2 minutes on each side.
Spoon marmalade mixture over tuna; cook 1 minute or until medium-rare or until desired degree of doneness.
Remove tuna from pan; sprinkle with cilantro (optional)

Serve with jasmine rice or mashed potatoes and green beans (or another fresh vegetable!)
Ad blocker interference detected!
Wikia is a free-to-use site that makes money from advertising. We have a modified experience for viewers using ad blockers

Wikia is not accessible if you've made further modifications. Remove the custom ad blocker rule(s) and the page will load as expected.