Description
Edit
This recipe for Danish dumplings is without yeast. They are baked in a special kind of pan, shortly available in the shop. Serve drizzled with icing sugar.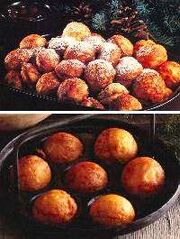 Ingredients
Edit
Decoration
Edit
Directions
Edit
Melt the a knob of butter in each of the holes in the special pan and fill ¾ with the dough.
When the dumpling is light brown on the bottom they are turned with for example a knitting needle.
Bake for 5–6 minutes, turning frequently.
Serve sprinkled with icing sugar, and with plenty of jam.
Ad blocker interference detected!
Wikia is a free-to-use site that makes money from advertising. We have a modified experience for viewers using ad blockers

Wikia is not accessible if you've made further modifications. Remove the custom ad blocker rule(s) and the page will load as expected.