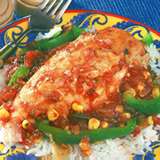 Ingredients
Edit
Directions
Edit
Boil broth and pickling spice in heavy large saucepan ten minutes.
Strain and return liquid to saucepan.
Simmer until chicken is just cooked through, about ten minutes.
Top with bell peppers and minced chile.
Boil cooking liquid until reduced to ⅔ cup, about ten minutes.
Pour liquid over chicken and let cool 30 minutes.
Cover and refrigerate until well chilled, turning chicken occasionally, about 4 hours (can be prepared one day ahead).
Slice chicken and transfer to plates.
Top with marinated vegetables and some of the juices.
Ad blocker interference detected!
Wikia is a free-to-use site that makes money from advertising. We have a modified experience for viewers using ad blockers

Wikia is not accessible if you've made further modifications. Remove the custom ad blocker rule(s) and the page will load as expected.