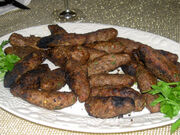 Description
Edit
These are great on the barbecue. Serve with chopped onnions. 
Ingredients
Edit
Yoghurt sauce
Edit
Directions
Edit
Mix well all the ingredients, except the oil. 
Leave in fridge for 24 hours.
Mix well thoroughly again. 
Roll the mixture into little "cigars" about 1 inch by 3 inches.
Rub lightly with sunflower oil and grill on medium heat or broil until well done.
Serve hot Cevapcici immediately.
Yoghurt sauce
Edit
Mix together all the ingredients
Ad blocker interference detected!
Wikia is a free-to-use site that makes money from advertising. We have a modified experience for viewers using ad blockers

Wikia is not accessible if you've made further modifications. Remove the custom ad blocker rule(s) and the page will load as expected.