Description
Edit
If you chose a light beer the beer taste will be light, if you however want a powerful beer taste you should use a dark one. You can reduce the fat in this dish by removing some of the fat from the Pork before starting.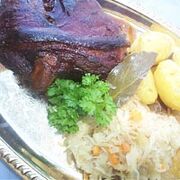 Ingredients
Edit
Directions
Edit
Cut groves in the shanks and place in an ovenproof dish.
Peal all the vegetables and dice coarsely.
Place around the meat in the dish with the herbs and pour over the beer.
Place the dish low in the oven and turn on at 180 °C (355 °F) and leave to roast for 2½ hour.
Occasionally drip the meat with some of the beer.
Turn the meat over halfway through.
The dish is finished when the meat fall of the bone.
Serve whole at the table with the vegetables.
Ad blocker interference detected!
Wikia is a free-to-use site that makes money from advertising. We have a modified experience for viewers using ad blockers

Wikia is not accessible if you've made further modifications. Remove the custom ad blocker rule(s) and the page will load as expected.